Explore This Section
Keurig Green Mountain, Inc.
Passing on the Gift in the Sierra Madre of Chiapas, Mexico
Keurig Green Mountain, Inc. and Heifer International are working together to help coffee-growing communities build sustainable solutions to poverty and hunger. Watch a six minute clip of the new documentary, After the Harvest:
After the Harvest
A look at the struggles of coffee growers in the mountains of Central America. Heifer International's After the Harvest program is helping communities acquire a variety of assets to increase their income and enrich their lives.
In the mountains of Chiapas, Mexico, Heifer has been working with coffee-growing communities to address the period of food insecurity known regionally as los meses flacos ("the thin months"), when income from the coffee harvest is depleted, farmers' food reserves have diminished and prices of nutritional staples like beans and corn have risen.
Heifer is helping members of the CESMACH (Campesinos Ecológicos de la Sierra Madre de Chiapas) coffee cooperative diversify their sources of food and income and reduce their dependence on coffee for their livelihood.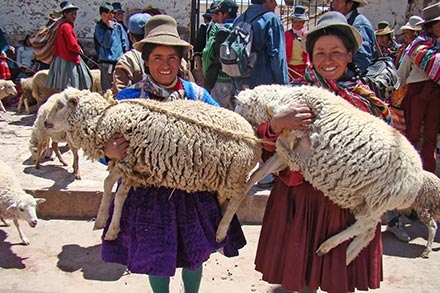 Through a participatory approach, each community chose the animals and resources best suited to their specific needs. Several communities chose pigs and rabbits, others received sheep, fish, mushrooms and draft horses. Most communities received honeybees, which not only help pollinate their crops but also provides another marketable product: honey.
Since the project began, entrepreneurial beekeepers have developed a robust organic honey operation. Through Passing on the Gift, The Flor de Café ("Coffee Flower") group has grown to more than 50 families from 10 communities, and is expected to produce over nine tons of honey in the next cycle – earning critical extra (non-coffee) income of $4,500 to $6,000.
Also, Heifer's environmentally-focused, agroecological methods naturally work to promote both the conservation and preservation of natural resources in the mountainous highlands of the El Triunfo Biosphere Reserve, the protected ecological zone where these communities are located.
Heifer's unique approach to seasonal hunger in coffee communities – now being scaled-up beyond these communities and into other countries – is proving to be an effective, sustainable method towards a secure livelihood all year long – and for years to come.
Your donation will support the work of Heifer International and the projects Keurig Green Mountain is supporting in coffee-growing communities. Each gift will help provide livestock, seeds and training to families struggling with hunger and poverty.