Explore This Section
Elanco
The Future We Raise Together
It's logical, really; an understanding proven in country after country: that healthy animals help create healthy livelihoods, healthy communities, healthy futures. It was exactly that shared commitment to a better life – for animals and people – that brought Heifer International and Elanco together. How animals are raised, how they thrive: these are fundamental to the work of ending hunger and poverty. And with every gift to Heifer, you own a part of that promise. You take one step closer to a living commitment to the animals and the people that share this planet. You open yourself to solutions that matter.
Your gift, just like the coming together of Heifer and Elanco, helps complete the circle of possibility for hungry people everywhere. And that's a very healthy place to be. Learn more about Elanco-supported Heifer projects.
Elanco and Heifer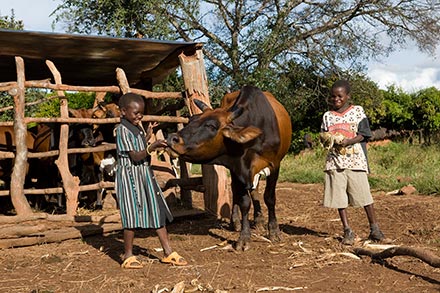 Elanco and Heifer believe healthy people and animals promote a healthy, hopeful future. For 55 years, Elanco, a division of Eli Lilly and Company, has developed products that improve animal health and protein production in more than 75 countries. For 65 years, Heifer has given gifts of livestock and training to end hunger. Together, we will end poverty through healthy people and animals.
About Elanco
Helping shape the landscape since 1954, Elanco – a division of Eli Lilly and Company – is a global research-based company that develops and markets products to improve the health and production of animals in more than 100 countries. By offering "Products that work, supported by people who care", Elanco enhances animal health, wellness, welfare and performance to help provide an abundant supply of safe, affordable food for the world's people.