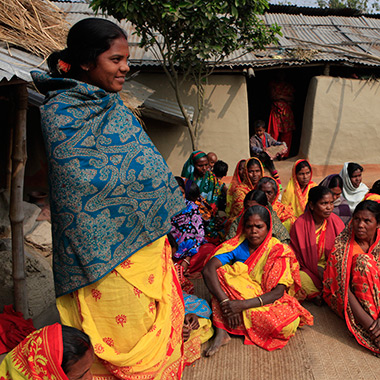 Women Self-Help Group
Empower Women to Prosperity
This donation consists of training sessions geared to help women create better lives for themselves and their families. Heifer International's Women's Self-Help Group:
Teaches women to read and write, empowering them to take control
Gives them livestock and training to increase their sense of self-reliance
Reduces their vulnerability to domestic violence and trafficking
Encourages women to become business owners
No solution to hunger and poverty can ever take root unless we engage and empower women to propel their families and communities toward prosperity. Through education and encouragement, Heifer is helping women find their voice.
The Heart of Enterprise
Ganga Khanal tells how the encouragement of her women's group gave her the courage and the means to change her family's lives for the better.
Today I am something. I have substance; I have animals; I have crops. My group gave me the inspiration, the idea and the confidence to do all this. Ganga Khanal, Jirouna, Nepal
This Gift Provides:

Women's Empowerment
Nutrition
Passing on the Gift
Education and Training
Community Sustainability
Self-Reliance
Health and Sanitation
School Fees and Supplies
Improved Environment