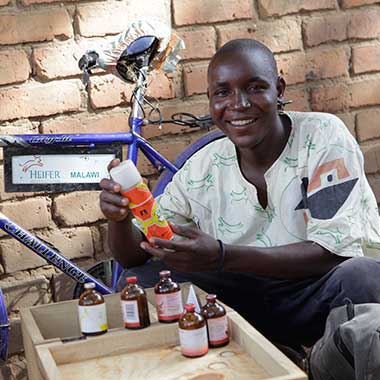 Community Animal Health Worker Kit
Community Animal Health Workers Kit Provides Training
This kit includes tools such as thermometers, stethoscopes, hoof trimmers, gloves, disinfectants, medicine for animals and more. It also trains participants in properly caring for gift animals.
The Community Animal Health Workers Kit:
Provides training in animal health, husbandry, breeding and nutrition
Improves community health by encouraging proper sanitation
Promotes self-reliance by teaching vital skills that can be used in a career
Animals need food, shelter and medical care just like we do, but in many countries, access to veterinary care is limited. That's why Heifer International trains individuals to become Community Animal Health Workers. Those who participate and learn the skills offered by this gift become empowered to apply those skills to the benefit of their communities.
You can empower a person struggling with poverty by giving them a viable skill that they can turn into a career. Your gift makes it possible.
This Gift Provides:

Health and Sanitation
Education and Training
Self-Reliance
Nutrition
Steady, Dependable Income
Passing on the Gift
Women's Empowerment
School Fees and Supplies
Improved Environment