Explore This Section
Empowering Women Farmers
Building Roads Out of Poverty in Nepal
Empowerment and leadership skills enable women in our projects to influence decision-making processes, claim their rights and partner with local organizations and government to promote rural livelihoods in vulnerable communities.
Significant programmatic innovations will result in holistic, lasting change that will increase meat and milk productivity. Families build a steady income allowing them to better feed their children so they are no longer malnourished and can go to school. Imports are reduced and successful small, women-led, businesses created, weaving these women into the fabric of the local economy.
Our Formula for Success in Nepal
Increasing Social Capital through Community Building
Where community members are brought together and organized into groups, their capabilities are enhanced and their mindsets changed, from despair to hope. The groups bond and connect with others in the community, linking all stakeholders with a shared vision for the future.
Cooperatives and district cooperative unions create a firm foundation for social capital and community building, connecting marginalized groups to other community forums, so that they flourish, giving families the resources they need not only to provide for themselves but also to Pass on the Gift.
Women's Empowerment
All project participants become a part of the co-mentoring model designed to foster cooperative, unranked relationship building for learning and development that attends to a person's academic, personal and emotional needs.
Self-Help Groups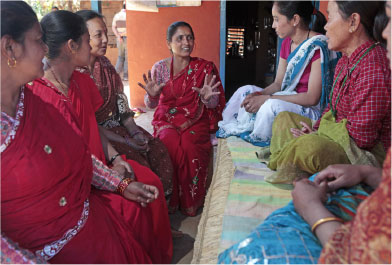 Working together in the value-chain to bring meat and milk to market, cooperatives increase efficiency through improved technology, adding value through each stage, and granting every player a fair price.
Environment
Our project works to help women and their families while caring for the Earth. Preserving the environment is integral to our approach. Projects use agroecology techniques that enrich soil and technology like biogas stoves that encourage a clean and healthy living environment.
Food Security and Nutrition
Food security increases with specialized training in family nutrition, nutrition needs for vulnerable populations (children, elderly, and pregnant or nursing mothers), and hygiene. As women have power to make appropriate choices regarding good health and nutrition, they also have access to seeds, livestock and training through the groups, breaking the cycle of malnutrition. Increased production will result in increased income and better nutrition for the whole family. Vegetable farming and animal-based proteins are fuel for balanced diets.
Increase Income and Assets
In Nepal, Farmer Field Schools work to increase goat productivity
Community agrovet entrepreneurs are positions created for local men and women to apply their agricultural knowledge within the value chain so that they can care for the community's livestock and share horticultural knowledge, by providing services like vaccinations and artificial insemination.
Job creation is key to addressing hunger and poverty. Farmer Field Schools are based in experiential education and are facilitated by skilled farmers. These groups of 25-30 farmers meet once a week during a growing season and use non-formal education methods and the field to learn about new technology and agroecology methods. Farmers are able to share their experiences and work in small groups, resulting in self-empowered, self-directed efforts in research, training, marketing and advocacy.
The co-ops are units that provide the right structure to expand group savings, and access micro-lending, financial literacy, marketing and contracts, and output markets. The hubs help participants find success by connecting farmers to efficient infrastructure, input supply and product marketing.